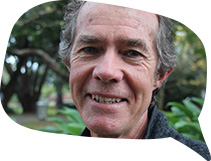 Don Mckenzie, Biosecurity Manager - Northland Regional Council
"I've witnessed the war on Wild Ginger for the last 30 years and although individuals and communities have won many battles I'm still seeing large areas infested with the weed.
I've seen it creep closer and closer to our finest kauri forests so that it now within Waipoua, Russell and many mid and far north forests - it is a forest invader as well as liking our roadsides and special places and it will invade under manuka - destroying habitats which can produce high quality honey. The plant forms a monoculture and dense overhead canopy so that native seedlings cannot germinate and its thick mat of rhizomes make the soil unsuitable for ground probing birds like kiwi.
We have been active in applying for biocontrol agents over the last 10 years and believe they can sometimes offer a smarter solution to controlling weeds. They can be very effective- they are not designed to eradicate the pest but reduce weed populations to low levels - the control of the weed mist flower throughout northland and ragwort has been successful only because of biological control agents brought in to specifically attack those weeds.
The mapping tool will give snap shot of the extent of Wild Ginger in our region- perhaps other regions will also contribute once they see the extent in Northland as it is my belief our region has several thousands of hectares and there is much more throughout New Zealand - it is well beyond our capability to hand weed or spray this weed- we need a smarter way of controlling this really harmful forest invader."